Spread Holiday Cheer with Panda Express and Coca-Cola!
Celebrate with family and friends at Panda Express (Panda) this holiday season and help kids at Children's Wisconsin (Children's). Panda joined the Children's Miracle Network (CMN) family in 2014 and has become one of our fastest growing partners. To date, Panda has raised over $500,000 to support Wisconsin kids and families.
Every day of the year, Panda associates help kids by asking guests to round up their meal purchase at the register. Donations help support a variety of needs within the walls of our hospital such as research, spiritual services, Child Life programming and community services throughout the state.
Now through December 28, 2019, guests can also help Panda help kids through the Get a Coke & Give Good Cheer initiative. Purchase any Coca-Cola beverage and Panda will donate holiday cheer to CMN Hospitals up to $250,000.*
It is a great way to inspire hope and spread joy to children like Libbie Coleman this holiday season. Libbie was adopted from China when she was 19 months old. When her parents saw her for the first time, it was clear to them that she would need immediate medical care from Children's. In fact, specialists at Children's reviewed her medical records before she even arrived in the United States. Libbie was diagnosed with Larsen syndrome, a genetic disorder that explained Libbie's unusual gait, dislocated joints and club foot. Libbie's parents weren't sure if she would ever walk. With more than seven surgeries and long recoveries behind her, Libbie is now an engaging and active fourth- grader. She doesn't just walk –she jumps and runs. "She wakes up every morning with a smile on her face," says her mom. "Children's was –and continues to be –with us through every step of Libbie's incredible journey." Your gifts to Children's help kids like Libbie continue to thrive each and every day.
Thank you for visiting your favorite Panda Express this season and helping Children's make a difference in kids' lives.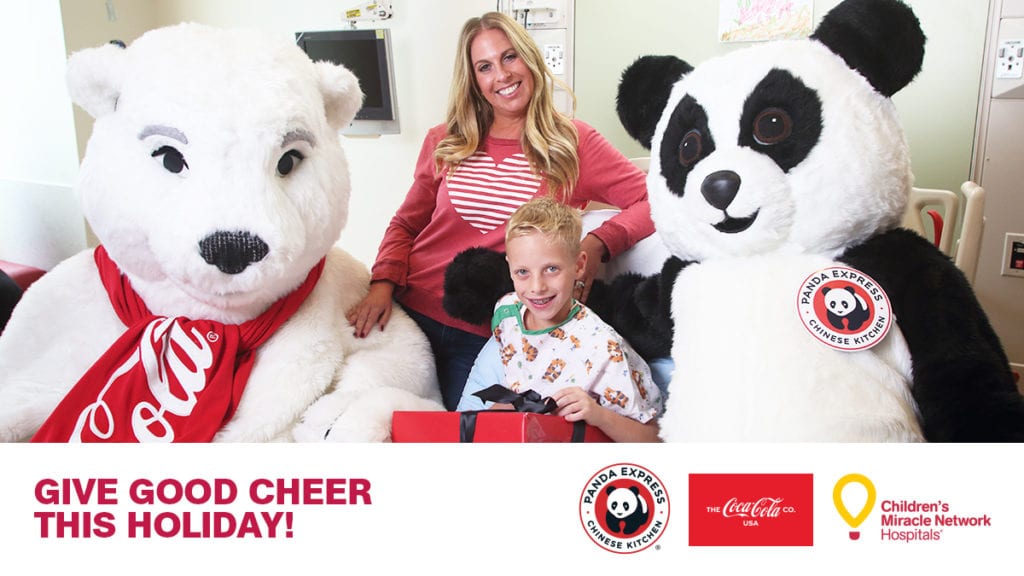 * Coca-Cola and Panda Express will donate 1% of the gross sales from all Coca-Cola products to Children's Miracle Network Hospitals.