Ace Hardware advocates for kids
Each year, Ace Hardware accepts nominations for their All Star Retailer award. Nominations are accepted on the merit of their fundraising, leadership, innovation, dedication and commitment to their local Children's Miracle Network (CMN) hospital. Thanks to Ace Hardware's generous vendor Stanley Black & Decker, this year's nominees were gifted a $3,500 donation in their name in appreciation for their continuous support of their local CMN hospital!
This September, Stew Elliott was one of the nominees recognized. He is the owner of 4 Milwaukee-based Ace Hardware stores and was nominated for his tremendous efforts and support for Children's Wisconsin. Since our partnership began in 1992, he has helped raise over $100,000. Elliott's overall fundraising has grown more than 200% in the last 5 years. In 2018 alone, his stores have raised nearly $27,000!
Elliott is a true advocate for Children's as he always goes above and beyond participating in fundraising events supporting Children's. His passion to help kids shines through his long-standing advocacy and engagement with Children's and his community. He embodies Children's values by going out of his way to share best practices with other Ace Hardware stores in the area. Always open to new ideas and initiatives, he provides suggestions and insights to achieve greater success. Elliott's efforts are seen in the community not only through his fundraising, but also in his contributions to Children's events. This includes providing rakes and brooms to help clear the streets at Briggs & Al's Run & Walk and treating dads with tape measures on Father's Day. His fundraising, innovation, dedication, and involvement highlights why he was the perfect nominee to be recognized on our behalf!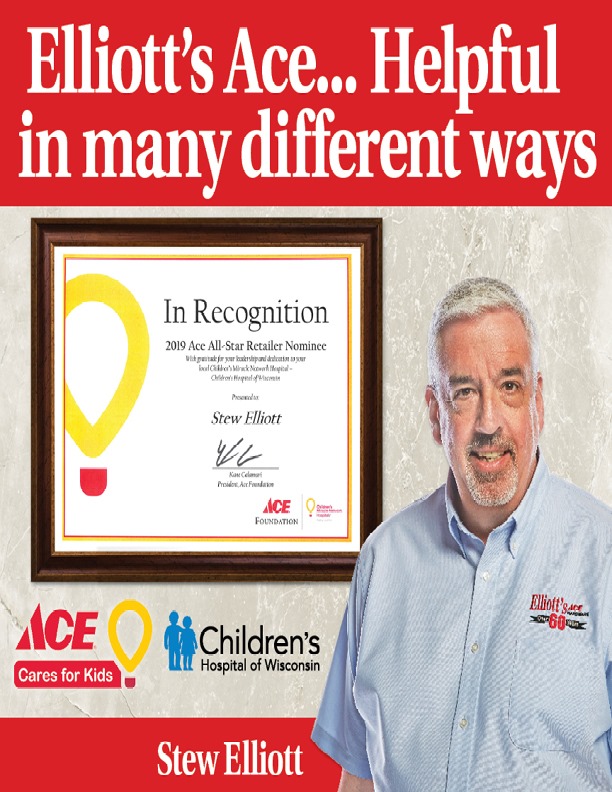 A hearty congratulations and thank you to Stew Elliott for helping Children's continue to grow our vision of making our kids the healthiest in the nation! You are a winner in our eyes, especially for your continuous support beyond the business walls!
Follow Stew Elliott's Ace Hardware on Facebook: https://www.facebook.com/ElliottsAce/
You can support Children's through Ace Hardware by visiting your local store between November 29 – December 25 and rounding up for kids at the register!