Milwaukee Extra Lifer Breaks Pinball Guinness World Record
When we heard that Ryan Clancy was aiming to break a Guinness World Record on Extra Life's Game Day, we waited in nervous anticipation to see if he could pull it off. Imagine our relief and excitement when we heard that he succeeded in setting a new Guinness World Record by playing pinball for 32 hours and 2 minutes!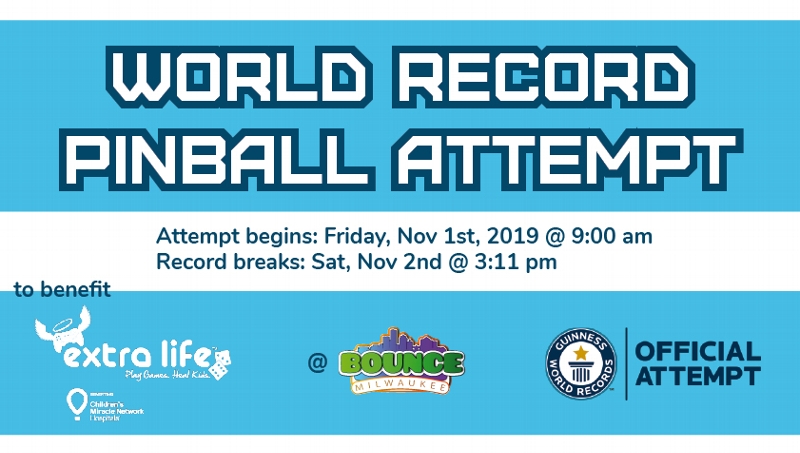 Ryan Clancy was eager to support Children's Wisconsin; his son Alex's life was saved when he was treated there for kidney failure a few years ago. "It was really scary. He had been sick for about six weeks, and we hadn't really pinpointed it," Clancy explained to ABC WISN 12. "I thought it would be a great chance to raise some funds for that and make sure other kids have the same great care that Alex had access to."
Clancy owns Bounce Milwaukee, a bounce-house bringing joy to the young (and the young at heart) in Southeast Wisconsin. The record was set at Bounce House and viewers tuned into Twitch to watch the excitement live.
Clancy was able to consult with the previous pinball world record holder, Wayne Johns, who played pinball for 30 hours and 10 minutes. "He was full of encouragement and gave me some good advice," Clancy told On Milwaukee. "We also traded barbs and at one point he said it would be fine if I decided to quit at 30 hours and 9 minutes." Clancy seems to have taken Johns' advice to heart, with the exception of quitting before the record was smashed. With his laser-focused effort on a single pinball machine for over 32 hours, Clancy set a whole new record! He was allowed one 5-minute break every hour. Otherwise, he kept his fingers on the machine and engaged in arcade play for an exhausting day and a half.
Not only did Clancy succeed in breaking a world record and gaining a ton of local news coverage, he also raised over $3,400 #ForTheKids! We're blown away.
It's never too late to sign up for Extra Life to help sick and injured kids in hospitals around the US and Canada by playing games! Donations for 2019 are accepted year-round!